LEARN

how you can make an impact

While the Elon Musks and Sheryl Sandbergs of the world are inspirational and wide-reaching, you don't need to be a multi-million dollar trailblazer to make an impact – or to be an influential industry thought leader. What you need is a clear vision, actionable strategy, strong voice and expert advisors to help you rise above the noise and get heard by those who matter most to your business.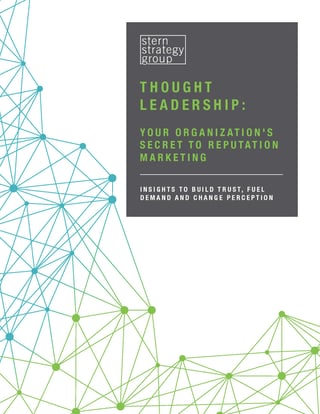 In this paper you will learn what thought leadership really means, and why it's key to building trust, fueling demand and changing perception. In addition, you'll understand how to:
Solve big problems – and ask the right questions
Translate your mission into action
Make your message stick
Secure your thought leadership legacy
Thought leadership today runs the risk of becoming commoditized. But not only is it still important, it's vital for growth – for individuals and careers, and for organizations and market share. It's your secret to reputation marketing. Share it.