THE ROLE OF MEDIA IN PR STRATEGY IS CHANGING.
While reputation, credibility and trust have always mattered to business success, their importance and influence will never be greater than in the next 5-10 years. But how we "earn" them as public relations and marketing professionals is shifting.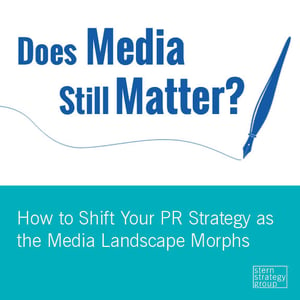 The practice of relying on the media to share your stories, boost your credibility and strengthen your reputation is under threat. We know you're under increasing pressure to deliver media results, and those results are increasingly difficult to get.
Diversify your PR strategy, and capitalize on new opportunities to ensure your brand's voice is heard by:

1) Building your own content empire
2) Expanding your circles of influence
3) Engaging directly with your audiences
To be clear, media still matters, just not in the same ways or with the same ROI. There are effective alternatives for shaping and sharing your stories. Grab your e-book copy to learn how to shift your PR strategy as the media landscape continues to morph. Your reputation in the new era of media and marketing depends on it.